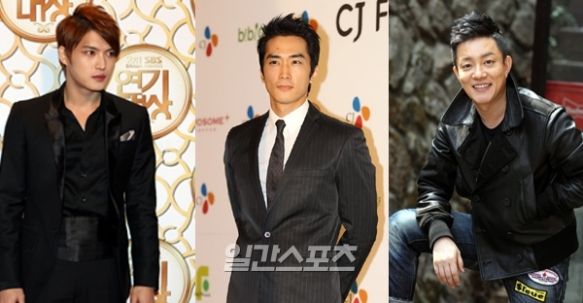 The main actors of MBC's new weekend drama 'Dr.Jin' are at war of screen-time.
After 'Feast of the Gods', 'Dr.Jin' will have its first airing on May 26th.
In the original Japanese manga, Song Seunghun's character leads the drama alone but in 'Dr.Jin',

Kim Jaejoong

and Lee Bumsoo's characters are more interesting.
Kim Jaejoong will play Kim Kyungtak, a naval officer of Joseon Dynasty and Lee Bumsoo will play Lee Haeung, a soldier of fortune who is known as Heungseon Daewongun.
The drama will have more various characters than the original but the problem is that all the three male leads were even 'one-top' in other drama (one-top: actor/actress who take the leading role, who is responsible for the overall flow of the drama/movie), it's not easy to regulate the screen-time. In addition, Park Minyoung will also play a dual role, which makes the screen-time war become fiercer.
An official explained, "Normally, if a drama has four male and female leading roles, only two of them are highlighted but in 'Dr.Jin', all four roles are equally important.This is an invisible fight for the actors in order to highlight their characters. We can't focus on just one of them.
Another related person said, "Park Minyoung, Song Seunghun and Kim Jaejoong will form a triangle love. Although the love-line focuses on these three, I think Lee Bumsoo's character also has a very large proportion."
Source
:
Daily News via Nate
|
Translation by
: Hannah for PrinceJJ
Shared by
: PrinceJJ
Please leave credits intact.