[TRANS]
At Jaejoong-hyung's concertㅋ
Won't I be taken to Suhodae?
Wonsik, let me off this time~ㅎ
[OTHER TRANS]
Jaejoongie hyung's concertㅋ
Won't I be taken into Suhodae [T/N: the name of their bodyguard company]?
Wonsik-ah, let hyung off the hook~ㅎ
*
[TRANS]
Heol..Do you do this to me? I'll change usim(card)!!
.
Probably in response to:
[TRANS]
Hyung… I'll delete [the photos] in Fukuokaㅋㅋㅋ
*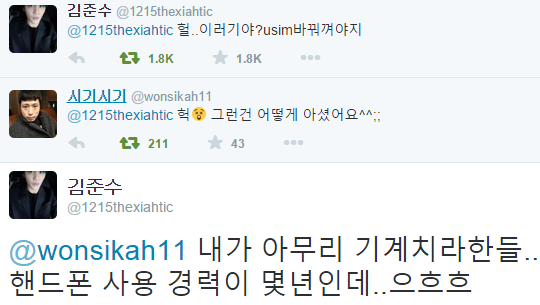 [TRANS]
Gasp!
How do you know to do that? ^^;;
No matter how I have to smack the machine..
I have a history of using a handphone for years..eukyangkyang
Sources:
@1215thexiahtic + @wonsikah11
Translated by:
@theyoungestmin + rilanna of JYJ3
Shared by:
JYJ3